Thanks to Michelle Lamar for this guest post: 
The 2013 Hyundai Santa Fe is a dream to drive and it's packed with features that make life easier for the driver and passengers.  I'm enchanted by the updated CUV from Hyundai because of the thoughtful, tiny details the company has put into the new Santa Fe.  It's a car made with love by Hyundai for your family.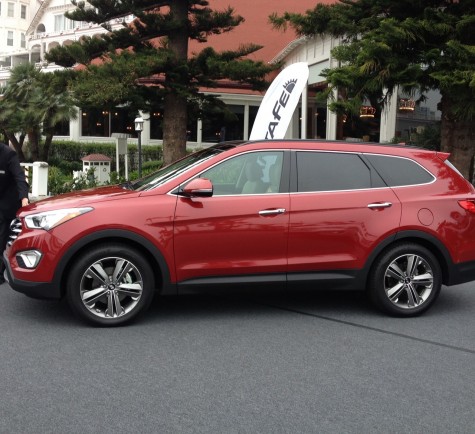 I love this vehicle.  I'm not kidding. I have serious feelings for the sleek updated crossover from Hyundai.
The New Santa Fe is everyone's darling because Hyundai has paid attention to so many of the "little details" that make a big difference as you transport the precious cargo that is your family.  I am obsessed with this CUV because of the minutiae but I'll get to that.
Hyundai invited a group to preview the 2013 Santa Fe this weekend in San Diego. I spent over 8 hours driving this vehicle all different driving conditions: heavy city traffic, on the highway and on winding roads through rural California.
Why the New 2013 Santa Fe Should Get Your Attention
Santa Fe's V6 engine outperforms competitors in power density while offering very competitive fuel economy.  The 2013 Santa Fe gets 18 MPG in the city, 25 MPG  on the highway and 21 MPG combined.
Santa Fe is lighter. It's the only V6 Midsize CUV to weigh under two tons and outperforms its competitors in power-to-weight ratio.
Santa Fe is powerful.  The CUV comes standard with a trailer prep package rated at 5,000 pounds.
Santa Fe's exterior dimensions are competitive with other Midsize CUVs while providing excellent maneuverability.
Santa Fe offers advanced standard safety equipment and is expected to perform as well as the Santa Fe Sport on crash worthiness.
Hyundai is second only to Honda in terms of holding value over time.
Let's recap. Hyundai's 2013 Santa Fe is a lighter, sleeker CUV.  The new Santa Fe is powerful.  It's safe and the vehicle has excellent resale value.  The 2013 Santa Fe's main competitors are the Honda Pilot, the Toyota Highlander, and the Nissan Pathfinder.  These crossover vehicles are roughly the same size and have three rows of seats. All of the points I've mentioned are great reasons to buy this car.
The 2013 Hyundai Santa Fe is for real passengers
My delight with the 2013 Santa Fe is because of all the thoughtful, family-focused features for passengers and driver.
Even the basic 2013 Santa Fe model is loaded with features. This vehicle offers comfort for all passengers.  Privileges usually just for first row are standard in the second and third rows in the 2013 Santa Fe.  For example, the ability to charge an electronic device or recline your seat isn't just for people in the front seats. I know you think this doesn't matter because your child is only 8 (or however old fill in the blank) but trust me. I'm the mother of teenage girls, this does matter and it will matter for you soon if it doesn't already.
Little Things Matter Most When It Comes to Families
It might not seem like a big deal that 2013 Santa Fe has a built in rear window sunscreen.  But this IS a detail that matters because wee ones don't get sunburned after hours in car because mom didn't put up the ugly sunshade in the right place.  Babies and toddlers can't tell you when they are getting too hot and this one feature alone would have saved me hours of mother guilt!
Another biggie for me?  The 2nd & 3rd row features that make passengers comfortable like climate controls, lights,  electronic chargers.   If you're a parent you know the drill when driving your children from school to events and more.
One child is too hot. One child is too cold. One wants the light on. One doesn't.  Small comforts like these go a long way towards keeping kids calm in car.
As my kids have gotten older, the biggest source of car altercations is the phone charger. There is only one charger and it's in the front seat.  Heaven help you if you're in the car with teenagers fighting over charging their iPhone!   This one "little" detail in the new 2013 Santa Fe is priceless in terms of emotional well being for my daughters and myself!  The charging options alone would keep me from the boiler plate mom speech:
"If I have to stop this car one more time, we are ALL going home I swear to GOD!"
Hours and hours of future therapy for my daughters could have been avoided, since teen bickering transforms me from a laid back mom to a psycho beast from hell.  Here's a list of the features that I love the most:
Side Window sunshade
Reclining and Heated 2nd Row Seats
Option of Captain's Chairs in Second Row – Kids can get to third row easily

Rear HVAC Controls


Rear Power 15V Outlet

Second Row Charger
Santa Fe comes standard with flat-folding 3rd row seats.  These seat actually FOLD DOWN FLAT.  My current CUV claims to have fold down seats but the seats don't really fold down.
Like Jessica I adore an oversized panoramic sunroof 
MSRP 2013 Santa Fe
Features of the 2013 Santa Fe Limited with 6-Passenger Seating and the 2013 Santa Fe GLS with 7-Passenger Seating are here. 
If you can't tell, I'm a fan of the new Santa Fe but Hyundai's updated CUV has plenty of people who are just as impressed as I was.  Fortune says that this vehicle is "Hyundai's love letter to America"
I couldn't agree more.
Michelle Lamar is a marketer and mother of two teenage girls who sadly never had the benefit of built in sunshades.