When the folks at Kia drop off a vehicle it's sparkly and clean. It's been perfectly maintained and I do my best to take some photos right away so that you can see their vehicles in the best possible light.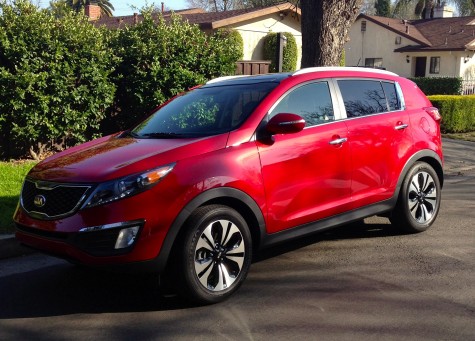 Dappled light… whatever.
You can see that the Sportage is cute. It's neither huge nor diminutive and even with wheels that look like daisies it's neither manly nor overly feminine. It's everyone's crossover without being bland. Escaping blandness in the crossover market is admirable.
Can you tell I loved my week in the Sportage?
It's a peppy vehicle even though it's a 4 cylinder engine and because it's a Kia this car comes loaded. The vehicle I drove was $30,900 and came to me with a cold weather package (hello heated seats and mirrors), an air conditioned drivers seat, leather trim, privacy glass, Sirius satellite radio, dual zone air (this means you don't have to divorce over temperature wars – thank you Kia) bluetooth… you know all the bells and whistles. Interestingly, both of these cars are 2013 models, one these cars has keyless entry. The other one is a Mercedes.
It's a quiet ride. One of the great flaws of lower to midrange vehicles is typically in cabin noise. I like to feel the road and everyone knows that I love the rumble of a good motor but I don't want to hear the road. I want to hear my music or, even better, my own thoughts. I like a silent vehicle and road noise annoys me. The Sportage is spectacularly encapsulated for it's size and price range. I won't pretend that luxury cars aren't quieter but since they're more than twice the price we're looking at apples and oranges. The Sportage is nearly as quiet as the Acura RDX but again, these are two very different vehicles in every other way.
I'm a fan of Kia. I like the way their vehicles drive, I love their 10 year, 100,000 mile powertrain warranty, their prices are unbeatable and they never scrimp of the extras. The kids had plenty of room in the back seat and though I don't imagine three car seats would do well in it (three car seats wouldn't do well in anything but a giant truck like a Tahoe) three kids fit fine and my kids are big.
Every time I drive a Kia I think, "They've priced this wrong." There isn't a lot of cache in driving a Kia (yet) but I cannot emphasize enough what incredible value they're offering.
The only thing that leaves me concerned about the Kia Sportage is that it's got a 4 star rating for front passenger crashes as well as for rollover from NHTSA. 5 stars is perfect and I can't imagine myself in a car with three stars. Four stars is good but I'd be happiest if it was all five star ratings.
Mostly though I'd like to apologize to Kia. We try to send your cars back to you in decent shape. Unfortunately we left two used orthodontic rubber bands and a half a tooth in the passenger door. I hope whomever found our treasures has kids otherwise I fear they'll never want any.
tl;dr Great crossover, insanely inexpensive, all the doodads… buy one.