You don't have to love the Opera to love a trip backstage to learn about the LA Opera, but it sure does help. So when someone emailed me from the LA Opera asking if I'd like a tour of backstage and to learn about the food they use for Falstaff I was really excited and totally booked so I couldn't attend.
But my Mom can. So I was really excited to send her and my Step Dad. They were armed with a camera and a profound love of the Opera. They took a lot of pictures.
Falstaff was Verdi's last Opera. He wrote it in his 80's and it premiered at La Scala in 1893. It's interesting in that it's based on The Merry Wives of Windsor and Henry IV, it's stories we know, stories we love.
My mom loved that there was both real and fake food on stage and particularly loves that Falstaff eats a lot, both a turkey leg and a cake. During rehearsals they use Twinkies, if you follow me on instagram you'll know that my mom was a Twinkie hoarder during the unfortunate bankruptcy of 2013.
There are four more Falstaff performances this season and you can order tickets online. Take a look at the food prep and some of the beautiful scenery.
Eating in bed
The table is set
Some more food art, which will have real food with it.
A table for props.
My Mom's favorite prop.
The view from the stage
The orchestra pit… where magic happens.
This turkey leg is precut so it can be easily grabbed.
Would you believe that all the food comes out of this tiny kitchen?
James Conlon Conductor
You can't have an opera without a lute.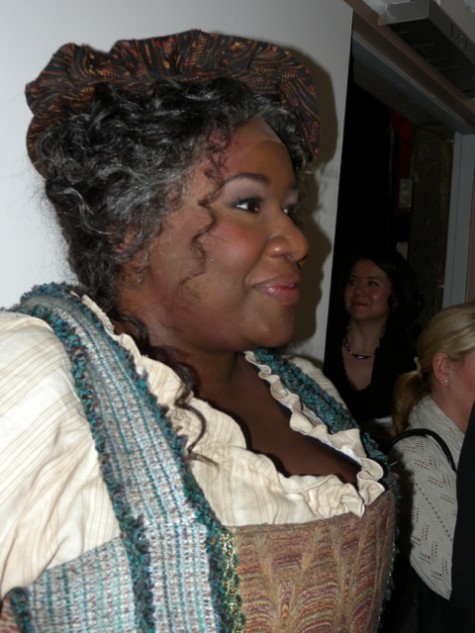 Ronnita Nicole Miller plays Mistress Quickly
Italian singer and food blogger Carmen Giannattasio plays Alice Ford
Lee Blakeley Director