I've just returned home from two nights at The Regency Hyatt Resort & Spa in Huntington Beach. The kids and I used just about every part of the Resort in two and a half days.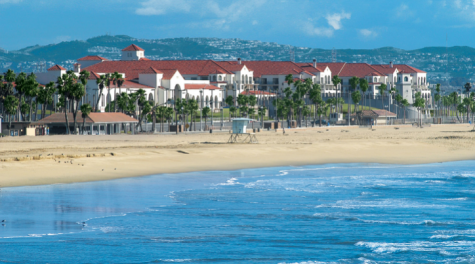 Before showing up I booked a conference room with Courtney Braz for a series of focus groups. It was painless. Actually it was better than painless. The room was priced at the same rate as a nearby conference room we'd used in an office tower only it was about three times the size. The cost of parking is a little painful at $19 a vehicle but to be fair the nearby office towers are $12 each and not nearly as lovely. The catering was perfect, we had a light vegetarian fare and when I called to cancel my attached hotel reservation because my son was sick (don't they always get sick before a holiday) Courtney urged me to wait another day before I canceled in case he got better. She didn't want me to lose the superior king room she'd held for me. I must say, I love that Courtney.
When we checked in I wasn't expecting much. I'm not sure that I've ever stayed at a Hyatt and I haven't thought of them as resorts. The valet and reception were as good as any at the Kea Lani or the Four Seasons. In fact the lady at reception (forgive me management, I cannot remember her name) gave my kids a coupon for s'mores and was incredibly warm and welcoming. While I'm busy asking forgiveness please also forgive my children for throwing marshmallows at each other last night. I did wipe down the wall where one of them stuck but, let's face it, kids and hotels…. so messy.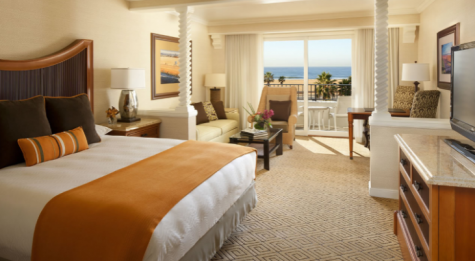 The room was lovely. There is one problem and that's the lack of a ventilation fan in the bathroom. Since Jane and I wear our hair curly it's okay to be with all that steam but it's sort of unpleasant by the third shower. This one complaint belongs with the architect and not the management so you are forgiven.
The kids had room service dessert the first night and then two mornings in a row we had room service for breakfast. The food was spectacular. That egg cup thing your chef does with the asparagus and spinach is amazing, getting it without the ham was pretty awesome too.
I love a well maintained pool and the kids do too. The beach chairs and towels at the end of the footbridge made our visit super easy and thank you for turning a blind eye when I rode my son's skateboard through the courtyard. I know it's against the rules but when you have a middle aged woman skating how much trouble can it really be?
The bar is cozy and lovely but I do have one complaint. My favorite hotel bar game is called "Spot the hooker". There were no hookers. Failure Mr. or Ms. Manager… total failure.
Dinner at the California was splendid. I think it might be the thing that prompted this open letter. You see while I was running a focus group my two teenage kids (who do NOT have the appearance of being particularly generous tippers) took themselves to dinner. They ordered swordfish and scallops after having a shrimp cocktail appetizer. They drank only water. Tap water. I ended up popping in on them only at the very end of the meal and was delighted to find that your wait staff treated my kids like royalty. We should probably talk about the perfection of the scallops but since it was the daily special it might not be as relevant as the very-goodness of the swordfish.
Claudia is the evening concierge and might be the loveliest lady I've dealt with in years. My housekeeper was Rosaura R and she too was beyond lovely and (maybe more importantly) the room was returned to an immaculate state despite our best efforts to destroy it.
I can't say that I'm going to rush out and try Hyatt hotels all over the country but something special is happening at the Hyatt in Huntington Beach. Every single person we encountered was lovely without being sickeningly sweet, everyone was good at their job, everyone seemed happy to be there and I was blown away by the level of service I received.
Also, two nights at the Hyatt after in room dining, valet parking, resort fees and about 93 smoothies was still less than one night at the other places we've stayed around there (and been less happy).
So thank you Mr. or Ms. General Manager. You gave us three Gottliebs three great days and I still have some change in my pocket.