A week or so ago someone from Keurig emailed asking for my address, they had something they wanted to send to me. I replied that I don't drink coffee and anything they sent would probably end up at my son's school for a silent auction in the Springtime.
They sent it anyhow. They didn't have to. So when a brand basically sends a gift to my kids' schools it's only polite to say thank you.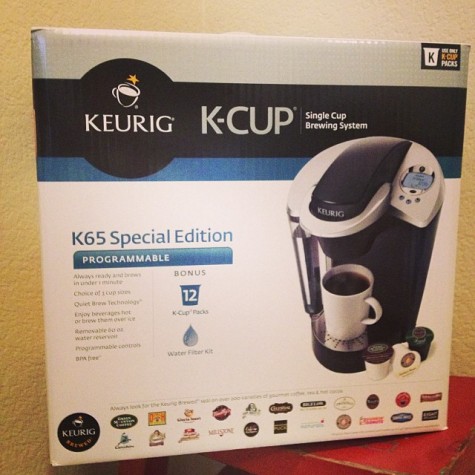 In addition to sending a Single Cup K-Cup brewing system (so generous, thank you) there is also a coupon book good for 50% off of a Keurig K-Cup or Vue home brewing system. I have twenty coupons to share with you and I'm not about to start walking around town handing them out so here's how we're going to handle it.
I'm listing 20 different coupon codes. Please start at the top of the list, when you've used one and completed your purchase take that coupon code and leave it in the comments, this way people know to go to the next one. These codes expire at the end of the end of the year so don't wait.
And no, this isn't my typical MO. Don't send me crap… unless it's crap that makes my kids' schools better.
FF-LTY55SR
FF-QJFGTF3
FF-MFN6MQT
FF-RBLLJHM
FF-PKXPTRJ
FF-VL3XL5X
FF-M3KFRRT
FF-VJJB0CJ (that's a zero)
FF-M4147P9
FF-QYP3JWL
FF-K93FG00 (two zeros at the end)
FF-SS8XBHC
FF-NTXKN9V
FF-SRY7QC1
FF-NWBPF16
FF-W85VN8N
FF-KNDVG53
FF-T4H618R
FF-JTWWG65
FF-SHV42M5