I've promised myself NO MORE GIFT GUIDES. But this year Hanukkah is a second away and Serena is already hounding me for gift ideas so I'm sharing with you the best subscriptions of the web.
My kids love to get Hanukkah gifts, but like every other kid in America they tire of the new things they've received. It's a whole lot of stuff all at once and I suspect that folks who work in offices and are gifted 83 bottles of midrange wines and craft beers are also wishing they could have holiday gifts year round.
For the people you love subscription gifting will pamper them long after December and for the people you do business with subscription gifting keeps you top of mind for months to come.
Enjoy these great gift subscription ideas for 2012
Wittlebee kids clothes every month
Citrus Lane kids toys every month up to age 3
Craft Coffee monthly coffee that will spoil you
Pop Up Pantry delicious three course dinners
Mantry man food… you know… packaged…
Spud weekly produce delivery for juicing
The New York Times Wine Club
Bark Box a box every month for dog lovers
PV Body fitness wear, a top and bottom each month
Birchbox makeup every month
Look Bag makeup every month
Svbscription luxe items for him and her
WittleBee: Without question Wittlebee is the way to go for the toddler set. Mall shopping is a nightmare at this age so the adorably dressed kids are getting Wittlebee boxes each month. Each box has 6 items with a retail value of $100. Wittlebee is $39.99 a month and can be cancelled at any time. This is a great gift for the parents and the kids will probably play with the box.
Citrus Lane will deliver a box of goodies for children up to age 3. All you do is sign them up with the baby's birthdate (I'd use an adjusted birthdate if they were a preemie) and wait. Boxes are $25 a month or $125 for six months. Babies change so quickly these boxes are a great idea.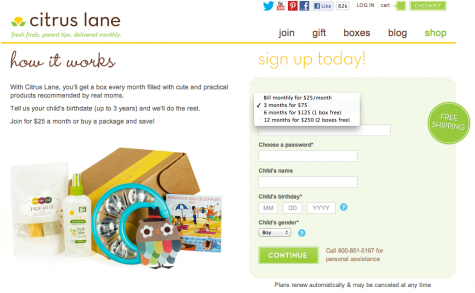 Craft Coffee: I'm pretty sure that my children would not have survived their first two years without coffee for Mom and Dad. Coffee can be brewed a multitude of ways but for those who love a hot cup of richly flavored coffee there is only one way to get it: buy good coffee beans. Enter Craft Coffee and their subscription plans. Coffee is delivered each month from three different roasters along with tasting notes and brewing tips.
Subscriptions range from $75 for three months to $240 for 12 months.
Pop Up Pantry: I have been using Pop Up Pantry since their early testing. The food is exquisite and the portions are generous. Tom and David have hit a home run with this startup. Meals are three courses and on average take 25 minutes to prepare. And by "prepare" I mean "boil water". My family loves Pop Up Pantry and the Grilled Cuban Spiced Chicken is out of this world. Plans range from $76 a month for two dinners (each dinner feeds two… in my house it actually feeds three) to $224 for an 8 dinner plan. I use a 4 dinner plan because I have a tiny freezer. Use this link and save $10 on your first order.
Mantry: Decidedly less ornate but equally fabulous is the Mantry Subscription. It's billed as food for men, but really it should just be billed as food for people who indulge. Subscriptions are available for one or three months at a time at $75 a month. There is no discount for volume. I've never tried Mantry but their December box looks like a beautiful and indulgent gift.
Spud.com: this is an urban delivery of sustainable produce. Which is a really snazzy way of saying "real food delivered to your home". But they've got something new and wonderful that makes a GREAT gift for anyone who loves juicing (or just wants to try it). Spud now has juicing boxes. Basically they deliver a box that includes a week's worth of juicing veggies to your home. If your gift recipient doesn't have a juicer they can send one too and spread out the payments (big win).
I'm on week two with Spud and the kids and I are absolutely loving it. Mr. G just thinks we're weird every time we add kale to a drink. Subscriptions range from $30-$50 a week.
NYT Wine: The New York Times has a wine club. Subcriptions are $90-$180 a month and if you order by December 12th they can deliver for XMas. There's something lovely about the New York Times and it's iconic food and wine reviewers.
Bark Box: There's a Bark Box subscription for the dog lover in your life. With gifts ranging from $29 for a single month to $105 for six months the dog lover in your life will get "four or more carefully selected products and presents for your dog – anything from bones and treats to shampoos, leashes and innovative new gadgets!"
PV Body is a subscription service for workout wear. Every month you get a two piece outfit for just $49.95. At the moment I'd say it's best for women who love the gym and yoga. I got a great outfit from them but it's WAY clingy for sharing photos. Here's a link that will get you 20% off of your boxes bringing it down to just $39.96.
Birchbox: Everyone knows BirchBox, they were the first to introduce us to subscription makeup and haircare. I love my boxes each month as does my daughter. The presentation is spectacular and it's fun to try new things. They even have a box for men now but your man has to love grooming. Subscriptions are $10 a month or $110 for the year.
The Look Bag is similar to BirchBox but a few dollars more. At $12.95 a month they are still incredibly reasonable but Look Bag includes two full sized items each month. Recently they had some growing pains and missed a few shipments and the presentation isn't nearly as lovely as Birchbox but (and this matters) their selection is so fabulous my 14 year old looks forward to it the most every month.
I'd recommend this only for your own daughter or wife. They don't have a gift plan or a prepurchase plan so it's charged each month. Again, not great packaging, but loads of stuff… and teenage girls love stuff.
Svbscription: I found a lot of shave clubs and underwear and condom subscriptions. Frankly I get my husband and my son subscriptions to Sports Illustrated and Sports Illustrated for Kids each year as a Hanukkah gift (they stopped being surprised in 2009). So this year I'm thinking about trying Svbscription. It's unapologetically snotty with a horrible return policy and it's $300 a box, delivered each quarter. I probably have Stockholm Syndrome from shopping at Barney's but their last box looked beautiful and if you can swing it, it might be worth a try.