A few weeks back I was on the freeway behind a 2014 Honda Accord and couldn't keep myself from delighting in the new clean lines it sported. In 1987 my grandfather bought me a Honda Civic sedan and my mother had an Accord so I have an otherwise inexplicable affinity to the brand. I remember driving mine home the first time, it was a manual transmission and I am mystified that it didn't fall out of the bottom of the car after a month of the abuse a new driver inflicts on a gear box.
In any event, I ended up spending a week in a Honda Accord. It's the V6 touring model and had just about everything you can pack into a car. I was going to review the car but what can you say about a Honda Accord that everyone doesn't already know? There's plenty of leg room and lots of glass so you feel like you're in a much larger sedan. The dashboard is clear and unfussy. It's a Honda so you'll have your oil changed but that's about it. They're steady and reliable and now they're actually quite attractive.
What dazzled me about the Accord are their safety innovations, one in particular that I'd never seen on any vehicle before.
When you turn on your right turn signal the navigation screen displays a camera that's attached to the passenger side mirror so you can see bicycles. As biking has has become more common in and around Los Angeles we're having more accidents and my worst nightmare is to have a bicycle shoot out of my blind spot and into my car as I turn right. Just the presence of this side view camera made me feel much more confident with my right turns.
My assumption is that Honda actually developed this technology as an aide in parallel parking. You see, there are lines on the display that correlate with car lengths and likely make it very easy to parallel park if you're not entirely comfortable with the process. Although keeping bumpers in good condition is lovely I just cannot get over what a delight it is to be able to see that very perilous bike lane and I'm unsure why every car company isn't doing the same.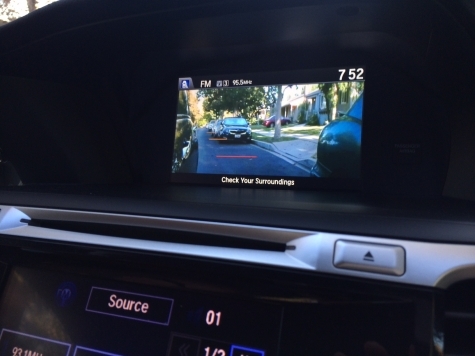 When I checked the window sticker to find out what package you'd need to upgrade to in order to get this technology I was surprised to find that the touring package included this.
In fact forward collision warning, lane departure warning and the multi-view camera are all included for under $35,000. The V6 engine is nice. It's a quiet engine and a quiet car with more than enough pickup but you won't mistake it for a race car any time soon.
The Accord looks like a great choice for a just about anyone. You could easily put two car seats in the back and not have your seat kicked while you drive. The trunk is enormous and the safety ratings are good with four and five stars in crash tests. I'd just add some sunshades or window tint because there's a lot of glass and I live in a hot climate. Big kids will be happy in the back seat and if you don't have a family you'll enjoy it even more because you stand a decent chance of keeping the car clean.
Cyclists would be wise to watch what Honda is doing here. I do believe those multi-view mirrors are one of the most exciting innovations I've seen in a very long long time.