Recently you might have spotted me dashing around town in the brightest blue sedan that Los Angeles has ever seen. The 2012 Mazda 3 sips gasoline and gets you where you want to go comfortably. It's a small sedan and parking is a breeze but there's still enough room so that the boy around the corner who we carpool with can fit comfortably in the back seat. He's five feet eight inches tall. This is impressive.
The Mazda 3 is for a very particular type of automotive buyer. You've got to want a sedan and be in a sort of starting pricepoint. The model I drove was stickered at $24,970 and had everything you could want in a car including a technology package that has a blind spot monitoring system. I've seen the blind spot system in Ford vehicles so I suspect that's a holdover from when Ford had a stake in Mazda but it's one of the features I love most in our Jaguar and I appreciate any sort of accident avoidance that a manufacturer can offer.
Speaking of which I like that the Mazda 3 has a five star rating for the driver. I'm okay with the four star crash rating for the passenger but I'd really like to see what the crash ratings are for side impact. My window sticker says that they're not available yet but I'll update this post when the car has been tested. Everyone I love most sits in the back seat.
Did I mention that the Mazda 3 sips gas? With fuel costs soaring this is something that every new car buyer should take into account. It could mean thousands back in your wallet by year's end. EPA estimates are that the vehicle gets 28 MPG in the city and 40 MPG highway. My experience was that after my week of city driving I got 34 MPG. Yes, I went on the highway a little bit but if you're familiar with LA traffic that means that I got the car up to 65 for half a mile and then I was in gridlock.
Skyactiv engines are interesting. If you're interested in the engineering of it Mazda has a great page where they explain how they get the higher compression ratio which, of course, leads to greater fuel efficiency and torque. I've always said that folks think they're buying a car for the horse power but really they're buying it for the torque. Is it enough? Well, this isn't the fastest car I've ever driven but it does boast 155 hp with 148 lb/ft torque all on a six speed automatic engine.
Let's face it though, this is a small car with a small engine. If you're looking to drive the Autobahn at a zillion miles an hour this isn't the car for you. If your'e looking for a stylish and fun sedan that won't break the bank when you buy it and will continue to be inexpensive this is absolutely the right car. It's trunk is enormous given it's small size and the dash is pleasing.
At $25,000 I was treated to a power heated seat, leather interior, a tiny navigation system, bluetooth and a great sound system. The sound system was better than some of the more expensive vehicles I've driven.
Let's talk about the Tom Tom navigation system. It's this tiny little box that's just left of center on the console and it's operated by three buttons on the steering wheel. On day one when I hopped into the car I thought it was a pretty crappy nav system but by day 4 I was a convert. It's a joy to drive a car (finally!) with an unobtrusive navigation system. Before leaving for your destination you simply program the nav and off you go. Small screens proved to be much less distracting particularly in the evening.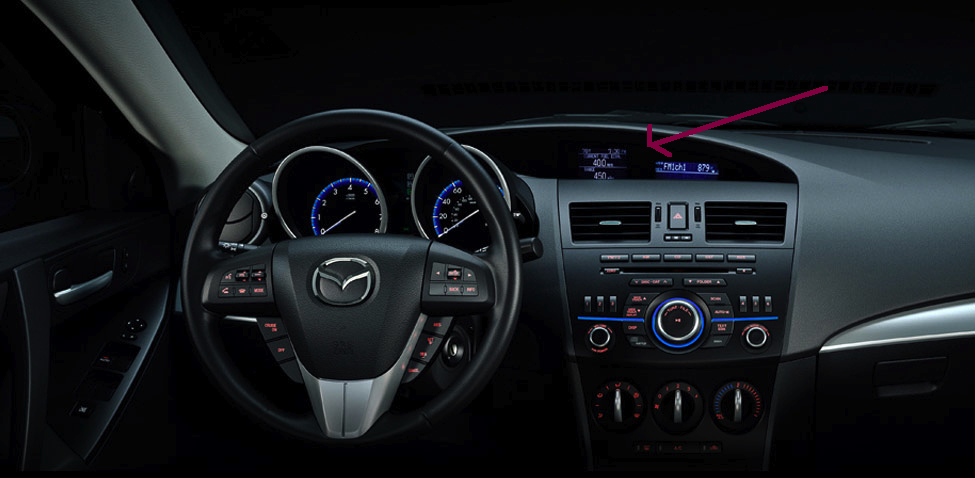 When I drive cars in this range I think of young drivers or new families and I'm thinking of two things: comfort and safety. Is the Mazda 3 comfortable? Absolutely. Five adults might be a bit of a crunch but there's plenty of room for three kids in the back seat, big kids too. Is it safe? I think so. I felt good about piling the kids in. It's a well thought out vehicle that respects both driver and the passenger and it's really quite lovely to look at too.